CATEGORY:class
2015年05月12日
Ueta Hiroshi Japanese calligraphy (SHODO)Kyoto Class.
KANJI KAISHO style
HIRAGANA
WAKA Japanese poem
you can study from the basic Kanji and Kana.
and also creative brush works.
it's about two-hours class.
workshop in UK Wales
class
Hours
: Two hour between 12:00-16:00,17:00-22:00 every Friday and Saturday.
Lesson Fee
: One lesson ¥2,000 Separately tool fee (ink, paper,brush etc..)
If you come twice in month ¥4,000              
Place
: 52-1 nishinakaai-cho,nishinokyo,nakagyo-ku,Kyoto (North of Kasuga-st and Oike-st)
Kyoto subway 「Nishioji-Oike station」Exit 4 ,walk north about 3 minutes .
contact
: Mail:  info@uetahiroshi.com
      TEL:  075-801-5879
stamp. you can make if you want.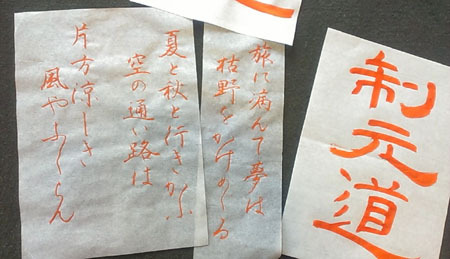 KANJI REISHO style and HAIKU
---
---
---